Glual Hydraulics has the technical know-how and highly qualified personnel to study the installations: layout, dimensions, etc. It builds high and low pressure installations in both carbon steel and stainless steel and has extensive experience in welded and non-welded installations (shaped, flanged, etc). It supplies all the materials required to complete the installation: pipes, fittings, flanges, hoses, valves, clamps, etc.
Glual is known for its flexibility in adapting to the needs of the client, both nationally and internationally, and for providing integral hydraulic system maintenance and repairing all types of components.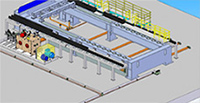 It has its own machinery for cleaning and flushing the installations, as well as performing oil analyses.
Flow: 1200 l/min.
Oil temperature control.
Continuous filtering 10, 06. and 03 microns.
Particle counter for oil cleanliness level control.
Fully autonomous.